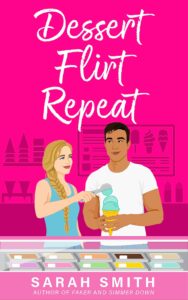 Dessert Flirt Repeat
(Grant Siblings Series Book 1)
Sarah Smith
Publication Date: July 17, 2023
Genres: Adult, Contemporary Romance
I just slid into the DMs of the hottest guy on TikTok and asked him for the most outrageous favor…
Desperation makes you do crazy things…like slide into the DMs of TikTok hunk Gage Grant.
That's exactly what I do after my cheating ex empties my bank account. I DM Gage and ask if I can film sexy TikToks of him and post them to the account of my struggling ice cream shop, Sweet Cheeks, so I can go viral and make more money.
To my shock, he says yes.
But there's a catch: I have to star in the videos with him.
One problem: We're complete opposites. I'm a plain Jane girl next door. He's a TikTok bad boy with Adonis abs and a devilish smirk who films himself preparing gourmet recipes shirtless.
But I'll do anything to save my business. Soon I'm covering Gage's washboard abs in whipped cream, he's licking hot fudge off my stomach, and Sweet Cheeks' TikTok followers are loving it.
Business is on fire…and so are things between Gage and me. The more we're together, the harder it is to resist his heart-melting smiles, sweetness, and sense of humor. Soon we're hooking up. It's the hottest workplace romance ever. But am I brave enough to take another chance on love with a guy I never, ever thought I could have?
An opposites-attract, bad boy-good girl steamy romance with an HEA. This is book 1 in the Grant Siblings series.
Amazon US | UK | CA | AU
READ FREE IN KINDLE UNLIMITED
ABOUT SARAH SMITH
Sarah Smith is a copywriter-turned-author who wants to make the world a lovelier place, one kissing story at a time. Her love of romance began when she was eight and she discovered her auntie's stash of romance novels. She's been hooked ever since. When she's not writing, you can find her hiking, eating chocolate, and perfecting her lumpia recipe. She lives in Bend, Oregon, with her husband and adorable cat Salem.